Community
Living, Working and Growing
to make our Community Better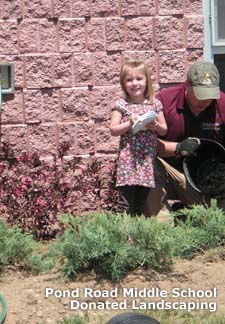 McLaughlin Tree Farm provides Christmas trees to our servicemen and women stationed throughout the world through the Trees For Troops program.
Each Christmas we deliver and set up a live Christmas tree at the Robbinsville Senior Center. After the holidays the tree is planted outside on the grounds.
At Christmas we deliver and set up a Christmas tree in Robbinsville's historic one room schoolhouse, which is decorated by the Girl Scouts.
McLaughlin Tree Farm also sponsors several recreational sports teams.
In 2008 we donated a 14 foot Norway Spruce to St. Gregory the Great Church in Hamilton, which was used to host the first annual tree lighting and caroling event.
We also provided the tree planted at Town Center in Robbinsville which will be the focal point of the annual Christmas tree lighting ceremony.
In 2009, we have donated time and materials to landscape the main entrance to Pond Road Middle School.
At Christmas and throughout the year The McLaughlin Family works hard to make our community a better place to live.
Contact Us
1312 Old York Road, Robbinsville, NJ 08691
(609) 259-8122
Hours of Operation
November 24th to December 23rd
BLACK FRIDAY: 9am - 5pm
November 24th to December 23rd
Monday - Thursday: Closed
Saturday - Sunday: 9am - 5pm CLOSED: 12/11, 12/14, 12/18, 12/21. 12/24